WHAT IS MINDFULNESS MEDITATION?
Mindfulness meditation means paying attention – deliberately paying attention to the present moment without judging it.
---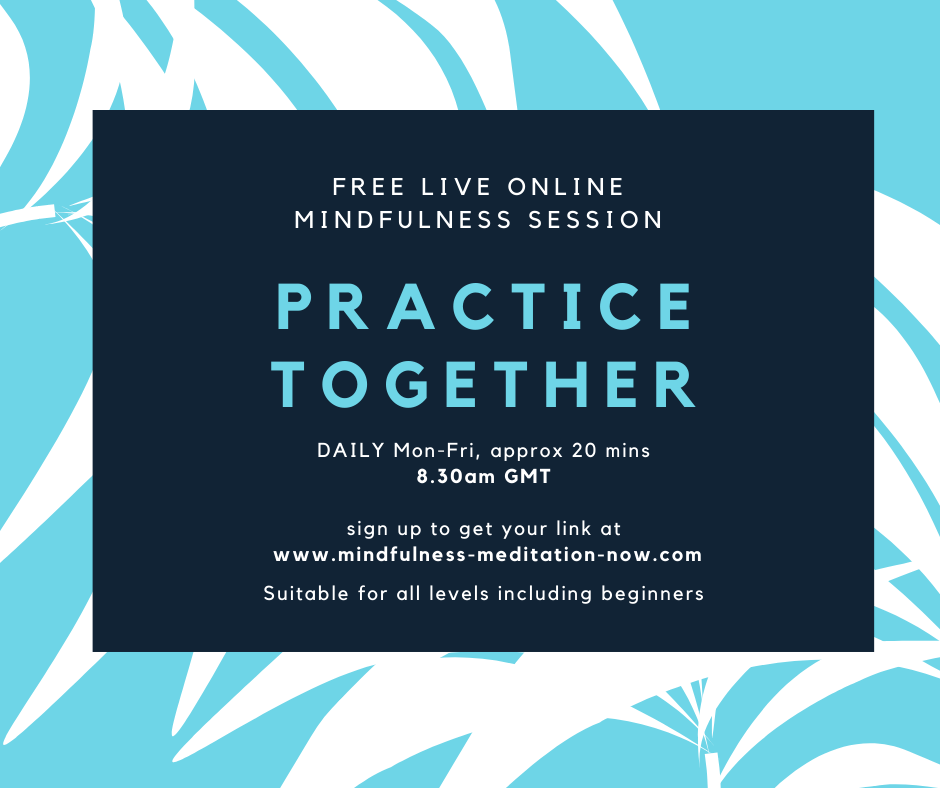 JOIN ME AND OTHERS IN A FREE DAILY ONLINE PRACTICE SESSION
8.30am GMT
Mon-Fri
Suitable all including beginners
To join us, just sign up on the left
PLUS get a free 16-page ebook How to Practice in Challenging Times with 21 different informal practices to try at home.
---
How can paying attention be helpful?
Most of us spend the majority of time either stuck in the past with events that can't be changed, or thinking about the future – caught up in the dream tangle of 'If only...'
When we are stuck in the past or caught up in the possibilities of the future we are not present and we miss so many of the moments that make up our life.
We can learn to cultivate awareness of the present moment by practising mindfulness – through formal and informal meditation practices.
You can learn how to practise secular mindfulness meditation online in group sessions with live teacher interaction and support.
I also offer workplace tasters and sessions around the country.
If you would like to experiment with informal practices, download my free pdf How to Practice in Challenging Times


Who is this mindfulness for?

Mindfulness meditation has been shown to be helpful for all of us – whether we are suffering from physical or emotional pain or simply the 'full catastrophe' of life, that is, the joys and sorrows of being human.
We all suffer from stress at some point in our lives and learning to be present can make our lives feel richer and more fulfilling and help us manage the ups ands downs of everyday life.
Registration is open for my next course here

Learning Mindfulness
Ways you can find out more about mindfulness: taster sessions and workshops, as well as courses.

The content of the 8-week 'Stress Reduction through Mindfulness' Course, as well as dates and times.

Who this course is suitable for
Dates, times and prices for 'Meditation Maintenance' – a follow-on support course for graduates of the 8-week course
Mindfulness in the Workplace - how mindfulness meditation can help us in our working day.

What people say
What participants have learned from taking the 8-week course
What the media says
Further information on

The Buddhist origins of the 8-week course
The development of Mindfulness-based Stress Reduction (MBSR) by Jon Kabat-Zinn and colleagues at the University of Massachusetts General Hospital, USA
The development of Mindfulness-based Cognitive Therapy (MBCT) for the prevention of relapse in depression by Mark Williams, John Teasdale and Zindel Segal
Research and the evidence base
plus
Resources to support your practice

Recommended books & CDs
Meditation equipment
poetry
The benefits of mindfulness are shown in research
Learn and practice online mindfulness in teacher-led sessions
A proven secular course to teach you how to meditate. Stress Reduction through Mindfulness can help with a wide range of physical and psychological illnesses and is based on mindfulness-based stress r
Read course feedback from previous participants: what they have thought about the course, how it helped them and what they learned.
A follow-on course for graduates of the Stress Reduction through Mindfulness course (the '8-week course')
Feedback from participants attending the Follow-on Course
Mindful Drawing is an exploration of drawing as meditation
Find out more about Anna Black and the 8-week Stress Reduction through Mindfulness course she teaches in central London
Accessible introductory guides to mindfulness meditation by Anna Black
Contact Anna Black to find out more about the 8-week <b>Stress Reduction through Mindfulness</b> courses held in central London
With this free meditation Anna Black guides you through a Breathing Space - a versatile meditation you can do any time, any where to bring yourself into the present moment.
Find out what data I collect and how I use it